MultiBall Interactive Wall for Seniors & Active Aging
MultiBall Interactive Wall for Seniors & Active Aging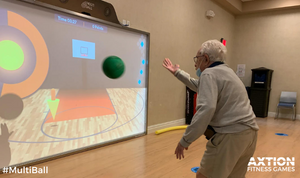 MultiBall Interactive Wall for Seniors & Active Aging.

Healthy and fit aging is what everyone wants. For this, it is important to always stay active in motion and to challenge your mind. Train your memory and motor skills at the same time with over 50 interactive games and sports apps.

Choose a game where you either throw light balls at targets, move your body back and forth in the interactive play area, or a combination of both. With the Free Motion Tracking, late-age gaming becomes a real motion magnet and adapts precisely to the player. Choose from different difficulty levels and whether to play as a team or alone.

MultiBall Interactive provides Fun and Entertainment Every Day
Use the MultiBall for leisure time, entertainment, rehabilitation, sports, exercise, and for some healthy competition.

MultiBall is easy to use and is quickly understood by everyone!

The Perfect Fit for any Location. MultiBall comes in three different sizes to perfectly match the space requirements of your facility. The system only consists of a stainless steel frame that can be mounted on any flat wall.

MultiBall Mini is designed for smaller spaces and will fit in any standard room. If you have a studio space, club room, multi-purpose room or any open space, you can add the MultiBall Mini and create an instant interactive area.
Dimensions: 10.7' Wide x 7.7' High x 5.5" Deep (3.3 x 2.4 x .14 meters)
MultiBall Club is the most versatile size for medium to large size groups. If you have the space in your center you can utilize this version to provide a complete experience. Engage with entertainment, sports, fitness programs, cognitive and Education games.
Dimensions: 13.4' Wide x 9.3' High

Article: 'Mind and body working together:' MultiBall 'exergames' provide fun and fitness to seniors

Article: Boca Raton Becomes First Senior Living Community in U.S. to Introduce Exergaming or "MultiBall" – A New Fitness Concept