MultiBall Interactive Fitness Wall
MultiBall Interactive Fitness Wall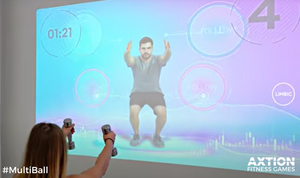 MultiBall Interactive Fitness Wall
Entertain & Get Fit with Fitness Games
MultiBall comes with 40+ preinstalled Games and Training Apps for every age, fitness and skill level. New engaging content is developed continuously and updated automatically.
Together with our Motion Tracking, all applications are focused on improving athletic and cognitive skills, training hand eye coordination, and to help learn body awareness.
The interactive play has a low entry barrier making it accessible for everybody. The immersive time-based gameplay with increasing levels of difficulty and challenging aspect of leaderboards will motivate your clients to revisit for more fun. Just like a computer game - but physically active.
Multiball can be installed easily on any wall, making it highly feasible physical fitness and gaming attraction for gyms, schools, recreation and hospitality.
Thanks to various MultiBall versions and sizes every indoor and outdoor space can be turned into a mixed reality sports and fitness gaming area within hours.
We offer a variety of sports and entertainment games which provide a highly engaging and attractive experience to make people move.
MultiBall is the world's first mixed reality fitness gaming platform.
Using technology and gamification, we turn all forms of ball sports into a connected experience that will make anybody move.
The MultiBall platform is built for the interaction between physical activity and digital games. We provide real-time audio visual feedback to our players, resulting in tantalizing high scores and global leader boards that let dopamine levels soar.
With our growing number of applications for exercise, your workout has never been more fun.

Features:
40+ games
Custom games
all ages and skill levels
Sophisticated training games for squash, racquetball, tennis and soccer
Game Store
Open software development kit (SDK)
Players Apps
The MultiBall Interactive Sports Wall can be installed on any wall. It consists of a gaming console, integrated speakers and an impact-proof sensor frame. All hardware components are available in 3 sizes and designed for maximum durability and 24/7 use. Once the system is installed it can be used without explanation nor supervision.
Projector (1): Projector package incl. mount and HDMI cable
Console (2): Sound system, sensor processing unit, motion tracking camera
Sensor System (3): Stainless-steel frame with built-in ball detection sensors
The Perfect Fit for any Location. MultiBall comes in three different sizes to perfectly match the space requirements of your facility. The system only consists of a stainless steel frame that can be mounted on any flat wall.
MultiBall Mini is designed for smaller spaces and will fit in any standard room. If you have a studio space, club room, multi-purpose room or any open space, you can add the MultiBall Mini and create an instant interactive area.
Dimensions: 10.7' Wide x 7.7' High x 5.5" Deep (3.3 x 2.4 x .14 meters)
MultiBall Club is the most versatile size for medium to large size groups. If you have the space in your center you can utilize this version to provide a complete experience. Engage with entertainment, sports, fitness programs, cognitive and Education games.
Dimensions: 13.4' Wide x 9.3' High
MultiBall Pro is developed for large spaces with high demands: sports facilities such as tennis or soccer clubs, gyms, in schools and universities. The dimensions of the MultiBall Pro allow an efficient, effective, and precise training of all-encompassing elements of the applications to improve training and performance for all ages and across all skill levels.
Dimensions: 16' Wide x 10.9' High