Toddler Soft Play Projects
Toddler Soft Play Projects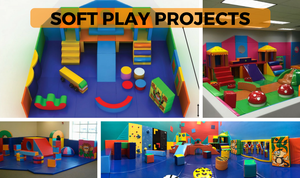 Axtion Technology provides commercial Toddler Soft Play products and interactive play solutions.

Through our partnership with World Play Solutions & MultiPlay, we excel in creating combination toddler soft play areas and interactive play equipment for children 0 – 6+ years old.

We believe age appropriate play experiences are critical to healthy child development and for the success of any indoor playground.
Recent studies have shown the importance of play not just for the happiness and physical development of kids, but for contribution to learning. Children who engage in regular play sessions develop and increased ability to concentrate and learn. Axtion Tech build and install a wide range of play structures that can be perfectly matched to the age and ability of any child.
We'll design to suit your available space, theme and budget and provide a turnkey service from creation to final installation. Clients include YMCAs, Community Recreation Facilities, Family Entertainment Centers, JCCs, Dental Offices, Children's Hospitals, Day Cares & Pre-Schools, Homeowners and more.
Whether your need is for a simple soft play corner, mobile soft play trolley sets, a custom designed tunnel & hut adventure play area we have what you are looking for.
It is our passion to design unique play spaces guaranteed to delight children visiting your facility or place of business by creating truly memorable experiences in fun filled, interactive play settings which will have kids wanting to come back again and again.
High quality manufacturing 
Non-toxic coated PVC fabric
Durable design, so the product looks as good 5 years from now, as the day you purchased.
Themed with water based acrylic paints - or digitally printed where appropriate
Highest quality foam inside each play piece
0-4 / 6 years - Babies and Toddlers (Pre-school)
"Multi-sensory and Soft Play Discovery Experience"
Baby Gyms
Toddler Play (Swings, Slides etc.)
Soft Play Toys and Structures
Playhouses
To begin planning your very own, unique toddler soft play indoor play environment today: 
Contact Us For More Information
4-12 years - Kids Indoor Play Structures
"Exploring and Learning Through Play"
Multiple Level Soft Play Structures
Jungle Gyms
Power Towers
Climbing Walls
Trampolines
Obstacle Courses
Climbing Volcanoes
Cannon Blasters (soft balls)
Fun Blocks
12+ years - Adventure Activities for Kids & Young Adults
"Developing Agility, Balance and Co-ordination"
High Rope Courses
Ninja Warrior Style Obstacle Courses
Climbing & Bouldering Walls