Stay At Home Therapy Products
Stay At Home Therapy Products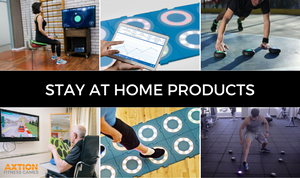 Stay At Home Fitness Gaming Product Choices
During these tough times it is important to take care of those in need. This includes our:
Physical Therapy (PT) and Occupational Therapy patients (OT).
Special Needs, Autism, Sensory athletes.
Seniors, Assisted Living, Nursing Home, and Active Aging Communities.
Axtion Technology offers products ideal for Home use and residential living facilities.

We Gamify the Products to make them fun & engaging.

Bobo Balance:
Bobos platform integrates mobile app games into traditional fitness and rehab training.
Bobo Home is the ultimate balance solution.
Bobo Motion is a full body range-of-motion training solution.
Moto Tiles are portable jigsaw tiles that have both LED and Touch Sensors. The tiles are lightweight, durable and be configured in multiple ways for patients

ROXs Fitness Lights can be used by all populations for health, fitness, sports, rehab, and therapy.

#Fitness Gaming #Fitness Games #Exergaming, #GamifyTherapy #GamifyFitness #BrainFitness #ROXsFitnessLights #BoboBalance 
Contact Us For More Information