21st Century Grant - After-school Education Funding
21st Century Grant - After-school Education Funding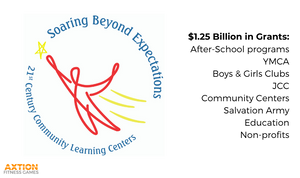 Grants to fund after-school education Programs.
21st Century Grants provides over $1.25 Billion to community learning centers and quality after-school programs. Many YMCA and Boys & Girls Clubs locations across the country have received these grants.
Link to Grants Applications by State: https://www2.ed.gov/programs/21stcclc/contacts.html#state
Purposes of 21st CCLC grants, as established by federal legislation, are:
To provide opportunities for academic enrichment and tutorial services to help students, particularly students who attend high-poverty and low-performing schools, to meet state and local performance standards in core academic subjects;
To offer students a broad array of additional services, programs, and activities to reinforce and complement the regular academic program of participating students; and
To offer families of 21st CCLC students opportunities for literacy and related educational development.
Providing academic enrichment during non-school hours to the kids in Communities who need it most.
The 21st Century Community Learning Center programs provide youth with project- and problem-based programming in Reading and Language Arts, Math, Science, Arts and Music, Physical Education, Character Education and Drug Prevention, and Tutoring.
The Afterschool Alliance is a nonpartisan, nonprofit organization in the United States whose mission is "to ensure that all children have access to affordable, quality afterschool programs." It uses communications and advocacy strategies to increase public and private investments in afterschool programs. The Alliance serves as both a central resource center for afterschool programs, as well as a public advocate. The Afterschool Alliance has more than 25,000 afterschool program partners and its publications reach more than 65,000 interested individuals every month.
http://www.afterschoolalliance.org/