Social Distancing Fitness Games Technology
Social Distancing Fitness Games Technology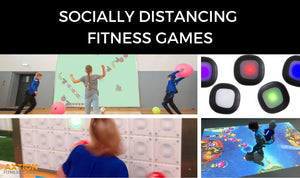 Every school year parents, educators, children and staff face all sorts of emotions and challenges preparing for the upcoming school year. This school year, however, has unprecedented challenges and concerns for everyone.
That's why Axtion Technology presents you with products to keep children active, motivated, and engaged while still keeping them socially distanced and safe!

The MultiBall Interactive Gym, Beam Projection, Twall and ROXs lights are all great options!
Let's start with the MultiBall Interactive Gym. 
The MultiBall Gym turns any wall into an immersive and interactive fitness game!
It comes installed with 30 interactive games in several categories: math, spelling, geography, health, physical fitness, sports activities, puzzles, timers, etc. Additionally, it is Windows based making it the only tool needed for streaming your favorite workout selection for PE, lesson plans, etc. The MultiBall Gym projector contains sensors that record the movement of users, balls, noodles, etc. Educators can easily set up dividers and use timers for relay races, have dance parties, stream workouts, give students soft balls or objects to throw at the wall that can be cleaned between uses, etc, The possibilities are endless.

Beam Projection is similar to the Lu Gym in that it is a projection system that uses sensors to record the movement of its players. Its optical sensors allow players to engage in physical play by engaging in hand-eye coordination by body movements, and touching displayed images with your hands, feet or object.
Ideal for the younger crowd and smaller spaces.
The Beam projection system comes loaded with 30 games with the possibility for 70 more for purchase and new games added monthly. Educators could easily provide students with balls, pool noodles, or other soft objects that can be cleaned and sanitized between uses.

Twall is another great option as it comes in three sizes to fit any facility's needs, 16 light targets, 32 light targets, or 64 light targets. The multicolored, engaging, LED light targets randomly illuminate so players are unable to memorize the patterns reducing the risk of boredom.
Twall is a not only a fun fitness tool but improves brain fitness and is great for rehabilitation and therapy as well.
It gives users the option to play in one or two player modes, memory games, team games, etc. Educators can easily provide their students with medicine balls for individual use to reduce touching of the wall or clean the wall between use as the tiles are durable and can easily be cleaned.

Lastly, but certainly not least are the ROXs lights! With lots of schools, gyms and clubs looking for more outside options, ROXs lights may be the answer you are looking for to keep engagement. State of the art loT technology is at the heart of ROX's. Multiple sensors inside these small blocks respond to the players tap, flip, toss, balance and shake movements. Each set comes in a pack of 6 and includes 6 adjustable straps, wireless charging plates, cables and a carrying case.
These amazing LED Light Pods can be set outside or inside for an obstacle course, on the gym floor for a relay race, used for balance in the hands, placed on a punching bag, and much more.
ROXs can easily be cleaned and sanitized between uses!
The MultiBall Wall, Beam, Twall, and ROXs lights are all great options that have possibilities for distance play and social play! Here's to keeping everyone active, social, and engaged… from a healthy safe distance!

#MultiBallInteractivePlayground #MultiGym #TWALLinteractive #BeamProjection #BeamProjectorGames #ROXsLights #ROXSFitnessLights #FitnessGaming #InteractiveFitness #KidsFitness #FunFitness
Contact Us For Custom Price Quote