ExerCube Game Play
ExerCube Game Play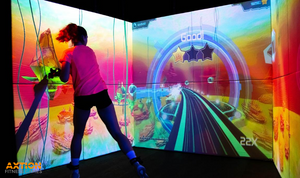 The ExerCube is a state-of-the-art immersive fitness game that uses a holistic body and mind training concept. The cube comes with three projectors, a PC, a sound system, a heart rate sensor, and a customized motion tracking system.
Players step into the virtual fitness game ExerCube by Sphery wearing a heart rate monitor and two wrist band sensors where they navigate an avatar on a hoverboard through 140 different tracks in a sci-fi underwater themed game course. While surfing the course, players will face numerous obstacles that require the use of upper and lower body movements that will challenge motor-cognitive, increase endurance, strength and flexibility.
During game play, the level of difficulty and complexity is continuously adapted based on the players skill level to ensure an effective workout. After each session, a player is given an evaluation of their game play so they can track their progress after each use to challenge themselves each time! The ExerCube can be played in single player mode, cooperative multiplayer in a shared cube, and in multiple ExerCubes.

Since ExerCube automatically adjusts to the players fitness level, this next level of fitness technology is the perfect fit for gyms, fitness centers, clubs, rehabilitation centers and more!
Contact Us For More Information