SportGames DDR Dance & Step Fitness Game System
SportGames DDR Dance & Step Fitness Game System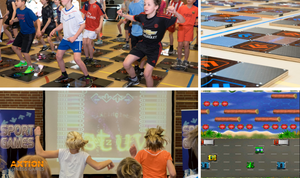 SportGames DDR Dance Fitness Games is an innovative product that develops reaction speed, motor skills and balance. Play together with friends or family, up to 32 players.

Activate Your Body & Mind
SportGames DDR offers great cognitive and physical activation for kids.
SportGames DDR is a 4-32 player exergame system using a Wireless Platform (a hi-tech step/dance mat style interface) to control the game play. With incredible high-definition (UDH 4K) graphics and fun game for mutli-player, the  SportGames DDR fitness game system will entertain all ages, from young kids, teens, adults and seniors.
The immersive games will give the users hours of fun, friendly play, while be active all the time.

Play Together with Friends and Family
SportGames DDR promotes kids' cognitive and physical activation. SportGames DDR brings a new twist to the classic dance pad interface. It includes numerous multiplayer games controlled with a Wireless Platform, which is a hi-tech dance pad-like interface.
SportGames DDR Games
Dance Games that correspond to the mat arrow directions and music rhythm. Choose from more than 500 tracks and different ability levels.
Athletics Games provide a fun and competitive sport theme. The faster you run, the faster your avatar moves on the screen.
Arcade style games like 'Frogger' and 'Falldown' for up to 32 players.
SportGames DDR is designed for 4 to 32 players and combines Ultra High Definition graphics with top quality immersive games to challenge and develop children's physical and cognitive skills. The games are suitable for small children, but also compelling for adults. 

Package Includes:
Game Laptop PC
Game Sports Software pre-loaded with all games and features.
Wireless Platforms. Choose 4, 8, 16, 32
1 Year Hardware Warranty
Lifetime Software License. 1 Year of updates and new games.
Required: TV/Video for Display. Internet for updates, upgrades, music downloads, data tracking and remote support. Optional: Powered Speakers.
Add to your system anytime with more SportGames wireless platforms.
Contact Us For Custom Price Quote