ValoClimb - Augmented Climbing Wall
ValoClimb - Augmented Climbing Wall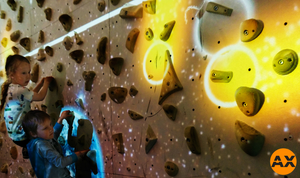 Augmented Climbing Wall combines projected graphics and proprietary body tracking to create interactive games and training applications. The games and applications make the training fun, motivate kids to move and give feedback to help you become a better climber. Augmented reality climbing is suitable for any skill level and age.

Interactive graphics and games maximize the capacity of any wall. The climbing wall can have hundreds of distinct routes and games that create new fun challenges for climbers. The highly visual wall is also entertaining to spectators and can be used for displaying logos and ads. There are different types of games, and new games will be released.

Ideal for: Health Clubs, Fitness Centers, YMCA, JCC, Parks & Rec, Schools, Shopping Centers, Family Activity Parks, Climbing Centers, Corporate fitness.

Augmented Climbing uses projected graphics along with body tracking technology to turn any climbing wall into a huge interactive surface. The climbing wall can provide a variety of functions, offering activities from fun games through to challenging training applications. This makes the interactive wall captivating for all age groups and even professional climbers. The Augmented Climbing Wall has massive potential for both new and existing facilities. The innovative technology is enhancing the overall climbing experience and making the sport of climbing available to a whole new audience.

The system projects graphics on indoor rock climbing and bouldering walls and tracks climbers' movements to create various training programs and interactive games for one or two players. It recognizes individual body parts and responds to climbers' movements in real time. The games and training applications are easy to customize for any age or skill level and the intuitive touchscreen interface is easy to use even for younger visitors. New interactive games and features are constantly added to the platform to ensure that the climbing experience always stays fresh.

The Augmented Climbing Wall is always under active development. New games and features are often released, making sure that the system stays fresh.

The system includes five games and applications all of which are integrated with a cloud service:

Game: Whack-a-Bat
gamified endurance trainer and all-round fun bat splatting.
As with whack-a-mole, you whack bats off the wall with your hands and feet. You'll have to stay on the wall a long time and move quickly to rack up the points.

Game: Sparks
shockingly enjoyable mazes with static and moving levels.
Climb through mazes of electricity, both static and dynamic. Don't cross the lines, or you'll be "electrocuted."

Game: Climball
(pong) engaging two-player ballgame with both competitive and co-operative game modes.
Climber pong. Grab a partner and hop on the wall. A floating ball bounces off the holds you touch. Play collaboratively, trying to keep the ball from touching the borders, or competitively, trying to hit the ball into your partner's side to score points.

Game: Astromania
save the world from blazing fireballs.

Game: Augmented Problems
route creation, sharing and climbing with video feedback.
Using the touchscreen interface, create a route by highlighting holds of your choosing. After climbing, watch yourself re-climb it via the projector or touchscreen.

Cloud Service: monitor and control your wall remotely. Game updates, service support, and ability to record video of gameplay and send to YouTube.

The games and training programs available with the Augmented Climbing Wall make the climbing experience even more social and fun, motivating climbers to keep coming back and providing them with feedback to help them improve their skills.