Spivi Studio - Group Indoor Virtual Cycling Software
Spivi Studio - Group Indoor Virtual Cycling Software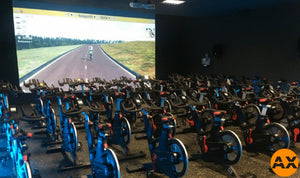 Spivi® Studio is an innovative 3D simulator system made for indoor cycling studios and fitness clubs who want to increase revenue and recruit more customers.
INDOOR CYCLING SYSTEM
Renovate your gym with Spivi® Studio, the world's most comprehensive display system for gyms and fitness clubs.
Indoor Cycling as never seen before
Take your members for rides in virtual worlds
Immersive group experience in an interactive scene
Dynamic leaderboard
Run local and club wide challenges
Brandable solution and end of workout emails
Let The Games Begin!
Indoor Cycling as never seen before, anyone can take part in the game.
Gamification and Exergaming of fitness activity turns the training session into a fun and thrilling experience.

Keep Them Engaged
Take your members through virtual worlds, go on a space travel, challenge them to burn calories, reach distance, generate energy and much more! Go for a Team Ride for social fitness, challenge your teams to reach the highest score and break the monthly leaderboard.  
Live Group Experience
Spivi turns traditional indoor cycling sessions into a fun and thrilling fitness experience. Group activity is monitored in real time by Spivi's core engine which uses it to simulate outdoor riding experience projected on screen.
Members can see their personal avatars on screen, track their training goals and gain better results over time.
The scenery pushes people to their limits, increases motivation and makes them come back for more classes.

Dynamic Leaderboard
Spivi collects data from your bikes and displays on the screen: Heart-Rate, Power, Cadence, Speed, Distance, Energy, Burned Calories and Rank!
Spivi combines the data with personal information such as age, weight and performance history it has on record, and generates a unique group simulation in real-time.

Visualized Training Programs
With Spivi Studio instructors can visualize any aspect of their training program during the class with remote control. They can generate steep hills combined with low RPM for power buildup sections, change to light incline terrain for fat burn segments or create downhill with high RPM for short sprints.

Riding Zone
The Riding Zone provides intuitive way to keep members follow the training goals. When the Riding Zone is displayed, members can simply see where they have to ride in order to stay within the range of the training program goals.


Live Performance Feedback
Spivi collects data from sensors on all bikes in the studio, combines them with the customers' personal information and privacy settings preferences, and generates live performance feedback. Attributes such as Heart-Rate, Power, Cadence, Speed, Distance, Energy, Burned calories and more are available.

Interactive Scene
Dozens of virtual high-resolution 3D tracks, different camera angles, live road manipulation, dynamic scene lighting control, real time group activity and much more, all assure you'll never get bored again while exercising!
As part of the subscription plan you get new graphical tracks and new training programs on a regular basis!

Team Competitions
Using Spivi, you can split your class into as many as 4 teams and let them compete with each other.
In Team Mode, Spivi splits the class into different teams according to the current team setup of the studio. Each team has its own unique color – Green, Red, Yellow or Blue, which lets you easily see who belongs to each team.


Fitness Tests
Run live fitness tests in class!
Spivi offers various fitness tests such as FTP and LTHR to run live in class. After each test Spivi displays the results and uploads them for future use. Fitness tests are great tool to improve member's motivation and track progress over time.

Heart Rate Monitor Compatibility With Any ANT+ HR and Polar H7 BLE Straps

Power View
Spivi makes the power based training programs easy to follow!
Members can manually set their Functional Threshold Power (FTP) or let Spivi update it for them automatically based on live class test and performance history.
The Power View displays the %FTP of each member and real-time power output in WATT units.

Heart Rate View
Just like with power, Spivi offers a dedicated view for Heart Rate training.
Members can manually set their Lactate Threshold Heart Rate (LTHR) and Resting Heart Rate (RHR) values on their user profiles. Alternatively, Spivi can update the LTHR automatically based on live class test.
The heart rate view displays the %Max HR of each member and real-time heart rate in BPM units.

Cadence (RPM) View
Run Cadence oriented training plans with the Spivi Cadence view. Instructors can focus on cadence training and show your members their real RPM values live!
The cadence view displays real-time cadence of each member in RPM units.


Data analysis
Your customers can use our widgets to track their performance over time, get better every time!
People can watch their effort compared to others in class, track their log and share their workouts data with others.

Social Networked
Spivi is integrated with the leading social networks available today such as facebook and twitter.
Spivi is also running on a dedicated community website, allowing people to interact with other members from their fitness club and meet new people from others – world wide. Expand your local experience behind the club's walls.

Workout Programs Library
Plenty of ready to exercise programs are waiting for you.
We have worked with professional indoor cycling instructors and with Ronnie Yoffe, a SPINNING® Master Instructor to bring you the most professional workouts out there.
Ronnie is a certified fitness instructor through the Kenneth Cooper Institute and AFAA. She also holds certificates from the UCLA Kinesiology program and the Wingate institute Physical Education School.

Add Your Workouts
Create share and use indoor cycling training programs on the cloud with our Workout Creator. With Spivi Workout Creatoror (beta) you can create professional indoor cycling programs within a few minutes. Programs created with Spivi Workout Creator (beta) can be used at studios equipped with Spivi® Studio and Spivi® 365.

Virtual Instructors
Run virtual classes, scheduled to run automatically when you want and guided by a various of virtual instructors.
Our virtual instructors instruct your members just like if they were in a class with a real instructor, monitor performance data, analyze it and display a real-time interactive 3D scenery.
Plenty of ready to exercise programs are waiting for your members.
 
Music & Virtual DJs
4 different virtual DJs mix and play your music according to your structured workout programs.
Because being a DJ is more than just pressing play and because being an instructor is much more than just telling the class what to do, our virtual DJs are your private DJs who follow your real and virtual instructors' guidelines and mix the music tracks to meet the class goals!
 
Online Class Scheduler
Spivi provides an online class scheduler for your studio.
Easily integrated on your website, the Spivi Class scheduler lets your customers book classes online. Management is done from a secure place in your studio section on our site.
Already working with Zingfit, MINDBODY® or LiveEdit to manage your studio? Great! Spivi® works with all of them to offer you a transparent integration.