MagixBox Encourages Learning and Movement Through Fun Interactive Play
MagixBox Encourages Learning and Movement Through Fun Interactive Play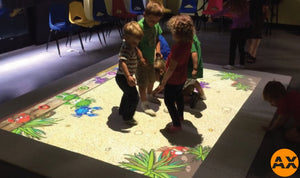 MagixBox by MotionMagix is a cutting-edge interactive platform developed for learning through active play. The platform uses advanced motion tracking technology and interactive walls and floors that are easily integrated into any indoor environment to deliver unforgettable interactive experiences that improve children's teamwork, collaboration and cognitive skills by engaging them in a series of fun, educational multiplayer games.
MotionMagix is easy to set up and compatible with any standard projector. The games, content and effects available with the platform are easily customized for a variety of applications, including learning, play and parties. For additional options, the award-winning technology also allows educators to create their own content in only three simple steps.
MotionMagix is used in gyms, schools, daycare centers, indoor play areas, hospitals and malls in more than 60 countries around the world. Watch the video to learn more about the platform and the benefits of using it.
Specifications:
MagixBox Floor & Wall
Hassle-Free Solution for interactive wall & Floor that plugs in with any standard compatible projector.
Includes:
Computer pre-loaded with program.
Integrated 3D Sensor
MotionMagix Software
Projector ceiling mount with MagixBox mount
Wireless Keyboard with integrated trackpad
Includes 20 games/effects of your choice 
Plug & play with a projector of your choice

Best in class technology specification designed to perform

Processor
Intel Core i5-5250U (1.6GHz turbo up to 2.7GHz Turbo, Dual-core,3 MB smart cache,15W TDP)

Memory
4GB DDR3 onboard memory

Storage
120GB SSD storage

Graphics
Intel HD 6000 graphics

Networking
LAN
10/100/1000 Mbps Ethernet port
Wifi
Intel Wireless IEEE 802.11ac

Power and Expansion
19V, 65W AC-DC Power Adapter (110/220 Volts)
2 × USB 3.0 ports
1 × HDMI 1.4a
1 × MinidisplayPort

Operating System
Windows 10 IOT

Internet
The software requires an internet connection to work

Integrated Gesture Sensor
3D Depth Camera with RGB Camera
FOV 60° horizontal x 49.5° vertical.
Upto 20 feet range.

QUICK SETUP - Whats Included in the box.



HOW TO INSTALL