Promiseland at Willow Creek Church Creates Active Gaming Playground
Promiseland at Willow Creek Church Creates Active Gaming Playground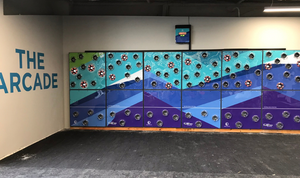 Promiseland at Willow Creek Church helps kids from birth to 5th grade explore, wonder, and belong.
"The kids love coming here, playing active games, and being in a social atmosphere that fosters encouragement and inclusion.
Bryan Cheney – Director of Promiseland

In late 2017, construction began on renovations to Promiseland, which hadn't seen major changes in more than 20 years. The dream was to create a space where kids could learn about the love of God in a place so fun, they would be the ones making sure their families made it to church each week. The brand-new spaces are now open for kids and families to enjoy.

About Willow Creek Church
The church averages 24,000 attendees each weekend at seven locations, making it one of the largest churches in the United States. Willow Creek has seven locations in the Chicago area, and their Spanish-speaking congregation, Casa de Luz, meets at the South Barrington campus.

The South Barrington location sits on 155 acres in the northwest suburbs of Illinois.
Axtion Technology provided Fitness Game products to make the space into a social fitness game / active gaming zone. Products include: Trailblazer Interactive Climbing Wall by Rugged-Interactive / Twall Fitness Game / MagixFloor by MotionMagix.
Contact Us For More Information