MultiBall Interactive Sports Wall
MultiBall Interactive Sports Wall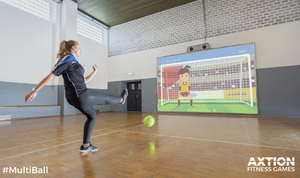 MultiBall Interactive Sports Wall
MultiBall is a smart sports wall and gaming platform, making sports more attractive for all ages with a mix of physical activity and gaming.

Real Gaming – Real Sports

Integrate MultiBall into the daily training routine. Using gamification, visual effects and real-time feedback MultiBall increases the training stimulus and produces measurable results for analytics.

To reach your full potential and achieve success MultiBall tests and trains players on reaction-time, field-awareness, precision and it all comes in the form of controlling the ball and making the right pass with perfect timing.
Fast reaction and first touch
Improved off-ball movement
Better and more accurate passing
Improved positioning and communication
Combination Cardio and Technical Training
Using technology and gamification, we turn all forms of ball sports into a connected experience that will make anybody move. All applications are focused on improving athletic and cognitive skills, training hand eye coordination, and improving fitness skills.

Our sensor frame consists of a highly reliable and precise tracking system that detects all sorts of balls and players movement in real time.

Benefits for Cognitive Abilities
Training sessions are designed to stress and challenge the athlete's brain, developing skills such as situational awareness, working memory, task switching, peripheral attention, and ultimately, decision making under pressure.
Improved decision-making under pressure
Sharpened focus and improved situational awareness
Increased anticipation and faster reaction time
Better divided attention and working memory
Educational content
With our growing number of applications for all sports, your workout has never been more fun.
The Perfect Fit for any Location. MultiBall comes in three different sizes to perfectly match the space requirements of your facility. The system only consists of a stainless steel frame that can be mounted on any flat wall.
MultiBall Mini is designed for smaller spaces and will fit in any standard room. If you have a studio space, club room, multi-purpose room or any open space, you can add the MultiBall Mini and create an instant interactive area.
Dimensions: 10.7' Wide x 7.7' High x 5.5" Deep (3.3 x 2.4 x .14 meters)
MultiBall Club is the most versatile size for medium to large size groups. If you have the space in your center you can utilize this version to provide a complete experience. Engage with entertainment, sports, fitness programs, cognitive and Education games.
Dimensions: 13.4' Wide x 9.3' High
MultiBall Pro is developed for large spaces with high demands: sports facilities such as tennis or soccer clubs, gyms, in schools and universities. The dimensions of the MultiBall Pro allow an efficient, effective, and precise training of all-encompassing elements of the applications to improve training and performance for all ages and across all skill levels.
Dimensions: 16' Wide x 10.9' High