MultiBall Interactive: How to get Funding
MultiBall Interactive: How to get Funding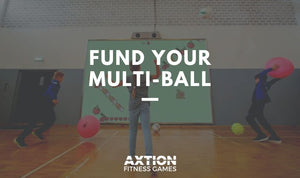 You've checked out the MultiBall Interactive Gym and need to get one! The incredible immersive games, lights, sounds and energy it brings will keep your players engaged and active but you are worried about one thing – the cost. The MultiBall Interactive Wall is a pricey investment but one that is absolutely worth it.
Thankfully, there are a few ways to help fund your MultiBall and get your community playing in no time!
National, State and Local grants are a great way to fund MultiBall for schools. Start by putting together a funding task force within your school to help! Reach out to Physical Education Teachers, Principals, Board Members, After school Program Directors, PTAs, etc. Including more people in your task force will allow you to share the work and explore more avenues. Because the MultiBall is so versatile in it's programs and capabilities, it qualifies for many types of grants such as technology, health, IT, social inclusion, academic performance, etc. Here are some sites to get you started!
U.S. Department of Education:
https://www2.ed.gov/fund/grants-apply.html?src=pn
Esser Funds. https://oese.ed.gov/offices/education-stabilization-fund/elementary-secondary-school-emergency-relief-fund/
Kajeet. Grants for Education Tech Initiatives
https://www.kajeet.net/10-new-grants-for-2019-20-ed-tech-initiatives/

Grant Watch (Subscription Fee)
https://www.grantwatch.com/grant-search.php
21st Century Grants provides grants to community learning centers and quality after-school programs.  https://www2.ed.gov/programs/21stcclc/contacts.html#state

Afterschool Alliance. http://www.afterschoolalliance.org/policy21stcclc.cfm
While grants are a great way to fund your MultiBall, it may not be the right fit or may not cover your entire purchase. Some other great options are Crowdfunding and Fundraising! Crowdfunding can seem intimidating and like a daunting task but it really isn't! Ulule and Donors Choose are great sites to help you get started. Remember that task force? Have them reach out to parents and the community through school newsletters, social media pages, etc. and show them the importance of getting a MultiBall into your facility. Fundraising can be another great option. Perhaps selling tickets to a competitive obstacle race put on by Teachers, Staff and the PTA?

Ulule:
https://www.ulule.com/

Go Fund Me:
https://www.gofundme.com/

Donors Choose:
https://www.donorschoose.org/
MultiBall Interactive Wall Case Studies:  

Feeling overwhelmed? Let us help! We can point you in the right direction to get you started. We want to help you get this incredible technology into your facility to keep kids active and healthy!
Contact Us For More Information
Grant Writing Tips:
ESSA Title IV, Part A Grants: 7 Key Premises
Physical activity is one of the most important steps to being healthy
Schools are ideal settings for teaching how to adopt/maintain a healthy, active lifestyle
Healthy students are better on all levels of academic achievement: academic performance, education behavior, and cognitive skills and attitudes.
Physical activity can help improve concentration, memory, and classroom behavior.
Investing in the health of students contributes to healthy communities in the future.
Providing access to healthy foods and physical activity plays an important role in academic achievement of students
All students deserve the opportunity to be health and successful.
Title IV, A of the Every Student Succeeds Act (ESSA): Student Support and Academic Enrichment Grants
Provide a well-rounded education. Counseling, STEM, music and arts, civics, IB/AP, health, PE;
Support safe and healthy students. Mental health, drug and violence prevention, trauma, informed practices, … health and physical education.
Support the effective use of technology. Professional development, blended learning, purchase of devices.
References: For more details – Contact us.