Iwall Fitness vs Kinect Xbox
Iwall Fitness vs Kinect Xbox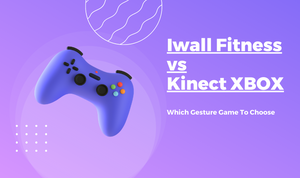 Iwall Fitness is a 1-2 player game system made by CSE Fitness in Finland. From their website it says: iWall is a fun and versatile exergaming product that lets you become a part of the game. Play on your own or share the fun with someone in multiplayer mode in one of our fitness games.

Iwall Fitness uses a Xbox Kinect camera and has about 8-12 games depending on your package.

The Kinect Game system with XBOX is a line of motion sensing input devices produced by Microsoft and first released in 2010. The devices generally contain RGB cameras, and infrared projectors and detectors that map depth through either structured light or time of flight calculations, which can in turn be used to perform real-time gesture recognition and body skeletal detection, among other capabilities. They also contain microphones that can be used for speech recognition and voice control.

Kinect was originally developed as a motion controller peripheral for Xbox video game consoles, distinguished from competitors (such as Nintendo's Wii Remote and Sony's PlayStation Move) by not requiring physical controllers.

There are 48 plus Kinect games available for Xbox. These games range in price from $9.99 to $59.00.
They include the very popular games like: Just Dance, Dance Central, Kinect Sports, Kinect Star Wars, Sonic Free Ride, Kinect Rush, Fruit Ninja, Kinect Adventure, Kinect UFC, Forza, Bandai Dragon Ball Z, Marvel Avengers, Air Guitar, Just Dance Disney, and more.

Game software publishers spend hundreds of thousands of dollars to develop and create these games. The graphics are incredible, the multiple game options keep the games engaging for years.


Xbox One and Kinect Bundle: $400
20 Games $25.00 per Game: $500
Samsung 65" TV: $600
TV Floor Cart: $250
TOTAL PRICE: $1,750

Two Complete Systems - Total Price: $3,500
Add 25 More Games: $500

Iwall Fitness system costs $20,000 or more.




Kinect Game List:
https://www.reddit.com/r/xboxone/comments/fr14xh/all_xbox_one_kinect_games_list/

5 Best Kinect Games (June 2021): https://hackernoon.com/5-best-xbox-kinect-games-youve-never-played-a52b3799

Kinect Game List by Console:
https://xboxaddict.com/xbox-360-kinect-game-list/
Other Choices over Iwall Fitness:
Obie Projection: Starting at $4,180 for 25 Games.
Exercube Compact. Stay tuned for the new compact version of Exercube. Price expected to be under $2,000 plus the TV.