The Dynavision D2 system is a progressive visual evaluation and training system. Clients with visual-motor and/or attention impairments benefit from this tool.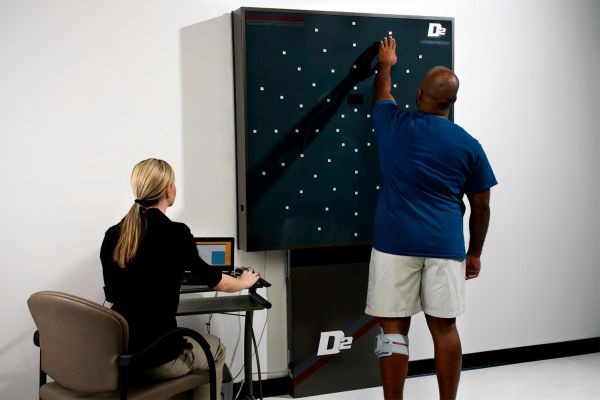 Patients who have sustained a stroke or brain injury often face impairments in visual, perceptual, cognitive, and physical skills. Other neurological conditions such as spinal cord injury and debilitation contribute to the wide variety of clinical diagnoses treated in rehabilitation settings.
Clients with these conditions often experience functional limitations resulting from impairments in balance, coordination, range of motion, strength, and endurance.
The D2 system offers customized programs to enhance visual performance and
independence through the simulation of real-life activities.

Individuals who may benefit from the Dynavision D2 system include those with:
Acquired neurological disorders, such as stroke and traumatic brain injury
Developmental disabilities, such as Cerebral Palsy, ADHD, or visual field deficits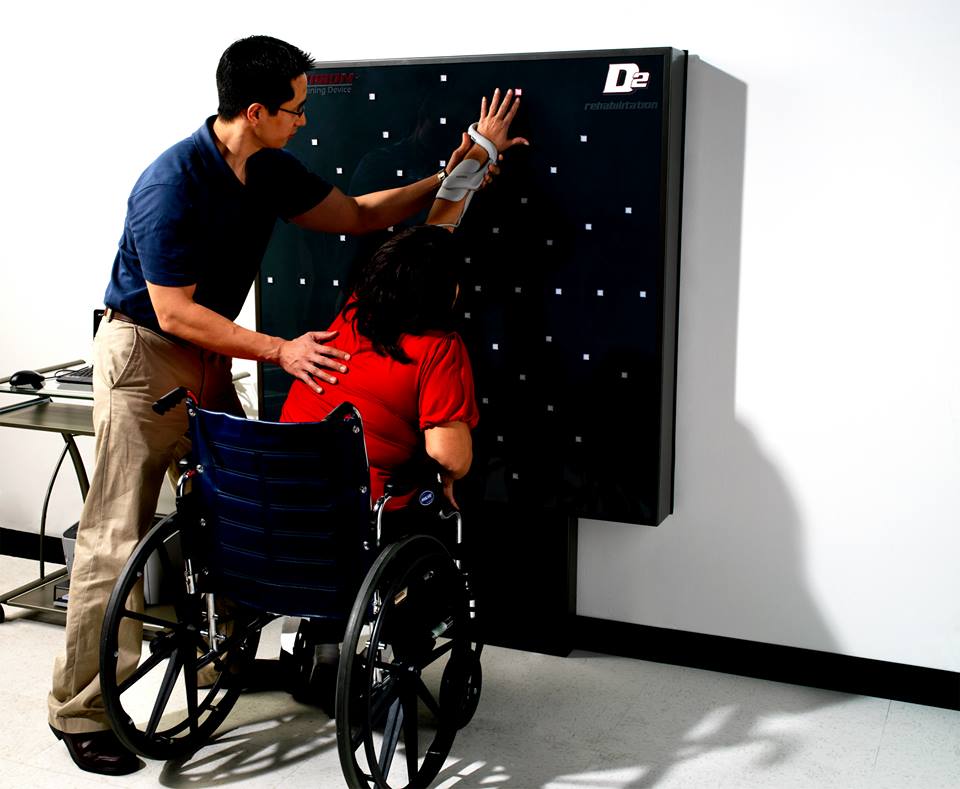 How does the Dynavision D2 system work?

Visual retraining can enable an individual to return to a wide variety of activities,
including basic daily tasks, driving, and even athletics.

This system is emerging as the cutting-edge choice for neurological rehabilitation and
beyond. It is ideal for addressing peripheral awareness; hand-eye coordination; visual
scanning and attention; visual reaction time; and processing time. The D2 system also
addresses motor skills, cognitive processing, and vestibular/balance disorders, allowing
for integrated multi-system rehabilitation.

The programs are fully customizable, with options for varying light speed, light
color, size of visual field, duration of the program, and complexity with multitasking
variables. Speed and accuracy are recorded, and the difficulty of the task can be
changed from simple to complex through the system's software. The multisensory
feedback lends itself well to addressing visual performance levels. Its unique T-scope
feature enables therapists to challenge advanced skills by requiring identification of
numbers (one to four digits) or words, while simultaneously striking targeted lights in
the periphery.
The therapist programs the board by selecting options that control the modes, light speeds, working areas, and speed and number of digits displayed in the center panel. The board is mounted on a wall and can be adjusted up or down to accommodate individual differences in height and for clients in wheelchairs.
The Dynavision can be used to address the performance skills impaired by these conditions, including motor and praxis skills and sensory perceptual skills, and in doing so improves the client's ability to engage in daily occupations (2). Dynavision exercises specifically address compensation and remediation for:
visual field loss (i.e., hemianopsia or quadrantopsia)
visual hemi-inattention
impaired ability to alternate, divide, and sustain visual attention
delayed visual-processing and visuomotor reaction time
impaired eye-hand coordination
impaired dynamic standing/sitting balance with reaching
limited range of motion
generalized weakness and limited endurance
The Dynavision D2 helps stroke patients and other traumatic brain injury (TBI) survivors.
Video: Dynavision D2 used for Therapy: