Senior Fitness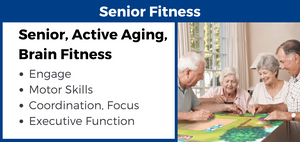 Motivating therapy for everyone. Can be used for improving mobility, strength and body control or to sharpen balance, coordination and reaction speed. Games have different degrees of difficulty and duration, which can be chosen based on the client's condition.
The medical market has been using fitness technology for a long time, and we have seen great success with compliance and progressions using the interactive fitness solutions. Key applications include:
Stimulation and improvement of motor and sensomotor skills
Training of coordination, gross and fine motor skills
Development of physical mobility and physical skills
Cognitive function and Executive Function
Visual stimulation, reaction training
Balance and fall-prevention
Great for Senior Living, Active Living Communities, Senior Housing, Nursing Homes, Senior Residential.
Senior Fitness