Sports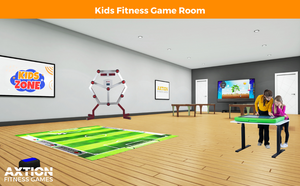 The place in your club where kids ages 1-10 years old go to have fun while learning and growing physically, mentally, and emotionally.
The perfect entry level fitness gaming solution for facilities that have limited space, require flexibility and ease of use. This solution accommodates multiple participants at one time and allows a facility to "mix-and-match" equipment offerings in the future. This is an ideal solution for facilities that have a multi-purpose area that is for the younger kids (Age 1-10)  and can be used to highlight fitness gaming as a way to keep kids active.
Axtion Fitness Games is the industry leader providing complete interactive fitness solutions to fit any space, budget and vision. Axtion provides customized solutions, services, and the most comprehensive suite of interactive fitness equipment and entertainment solutions for your total fitness environment needs. We offer the most complete range of fitness gaming products and services to ensure our customers achieve real business results based on their needs and goals.
Contact Us For Custom Price Quote
Kids Fitness Game Room