MultiBall Interactive Sports Wall Tennis Performance
MultiBall Interactive Sports Wall Tennis Performance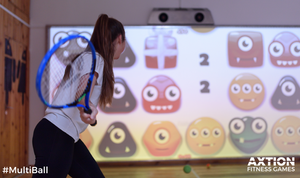 Tennis Training with MultiBall Interactive
MultiBall is not only an interactive fun and entertainment system, it´s also a platform you can use to train tennis, track your progress and compete with other players.
Accuracy
The system allows all level players to train their accuracy from a wide selection of games, most specific to aim. With a smart wall and our high-end sensors, the exact position of the ball can be detected. This helps the student and coach calculate the exact distance from the target in order to recalibrate a player's accuracy and record improvements with our statistical feedback.
HIIT – Fast-pace Cardiovascular Fitness
The fast pace and quick return of the ball allows for quick & slow muscles movements and reactions. This high intensity sport and full body exercise raise the heart rate in ways that are harder to achieve through tennis alone.
Hand-eye Coordination
MB's fast-pace variable trains the body's ability to complete actions with correct timing and precision. The system will challenge a player to read the incoming shots which are determined by understanding the physics of the previous shot while also positioning themselves to strike the next shot with power. Lot's of things to consider, but with lots of positive results!
Balanced Program
Both MultiBall and tennis improve the result of your muscles and brain working together; generating your balance. Moreover, tennis can sometimes become very repetitive and exhausting due to being a constant one dimensional training platform. Thus, the MultiBall offers a powerful sense of gaming which changes the environment and opponent a person is training with. This extensive diversity is a strong differentiator to most training programs.
Mental Training
Tennis can be mentally challenging and complicated when emotions rush after every hit, every point, every set. The MultiBall games give a feeling of joy and relaxation, therefore being a great complement to tennis. However, to beat the game you still will always need a strategy, challenging the player unconsciously as they need to evaluate their game plan and even sometimes, their opponent on Multiplayer games.
"The variety of games and training modules will keep tennis players and coaches busy and motivated. Everybody loves to play. The challenging aspect of the MultiBall Gameplay in combination with instant visual feedback provides an exciting sports experience."
Tennis Coach – Quentin Patrouillard


"Towpath is bridging the gap between video games and the tennis court with the new MultiBall interactive hitting wall! Improve your tennis game with accuracy, precision and speed. Multiball combines fitness, education and entertainment with a variety of games….and it's for players of ALL ages and skill levels!"
Towpath Tennis Center