MultiBall Interactive Wall News & Media Coverage
MultiBall Interactive Wall News & Media Coverage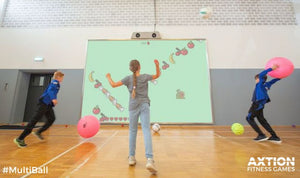 MultiBall Interactive has gone Viral many times with its captivating, engaging, and fun content. You can turn your school, club, or gym into Each fitness game is loaded with fun activity that requires movement and interaction with a giant screen. MultiBall transforms any gym into a giant video game using interactive video projection, lights and sounds.

MultiBall MAKES PHYSICAL ACTIVITY FUN
We all want our kids to be healthy; being active is essential to health.

MultiBall MAKES LEARNING FUN
It can be hard to keep kids focused and motivated in a traditional classroom setting.

MultiBall MAKES THE GYM MORE USEFUL
A gym is a big space. With the right equipment, it can serve many purposes besides sports and physical education classes.

MultiBall engages them with captivating activities that transform learning into a fun, social and active experience.

MultiBall engages them in a new way. One that is more inclusive, more immersive, and more fun. One that exercises the mind as well.