MultiBall Interactive Gym Playground for Schools
MultiBall Interactive Gym Playground for Schools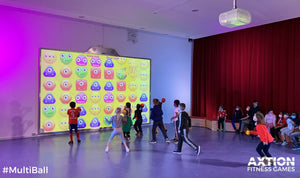 MultiBall Interactive Gym Playground for Schools
MultiBall Interactive transforms any gym into a giant video game using interactive video projection, lights and sounds. We believe in active play, and active learning. While playing MultiBall, senses, body and mind are always running at full speed.
MultiBall is a smart space that understands in real time the behaviors and interactions of people within it. 
Gym class that's like 'stepping into a video game'
MultiBall comes in three wall sizes to fit any space.  

We also offer a mobile version of the single wall system that comes with vibrant LED Screen.




MultiBall is an interactive wall that uses immersive activities, sounds and video to transform any space into an engaging, immersive video game.
MultiBall Interactive Gym Enhances Learning, Play and Physical Activity at Schools
Contact Us For More Information