T-Wall Motivates & Encourages Movement.
T-Wall Motivates & Encourages Movement.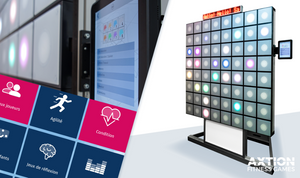 The new tWall Advanced (tWall A) model was released in 2022. The interactive tWall A combines the proven features of the tWall classic and raises them with new technology. The tWall is a proven LED Light reaction trainer and fitness game with durable features for years of use by any age group and any ability level.

tWall is an abbreviation for Touch Wall. The Interactive Touch Wall has been available since 2004 in the USA and featured many times through the Fitness Gaming community.

tWall Advanced adds acoustic feedback, various competition modes, additional games, APP controls for Google Play Store and Apple App Store. tWall A is a unique training system, fitness game and attractive event system.
Rugged: Withstands use by hands, boxing gloves, MMA gloves, light med balls.
Haptic Touch: LED Light provides an actual switch for sensory feel.
Game Library: Over 100 game options.
Any Age: From young kids to older seniors and everyone in between can use the tWall programs.
Any Ability Level: From high end sports performance, to stroke rehabilitation, functional training, and special needs, the tWall is adapted to all levels.
Multiple Applications: tWall is used for sports training, fitness workouts, games and events.
Shared Technology: Integrated WLAN and Bluetooth. App to control content.
Event Mode for direct competition between players, easy storage and evaluation of high scores.
Quality: Years of proven reliability and made in Germany.
Touch & Go Mode lets you select the quick play games displayed on tWall. The user simply walks up, selects the color of the game, and starts.
See the tWall Interactive Product Line


tWall Interactive - training, game, motivation, eye catcher
The tWall is one of the most versatile interactive systems for individual movement motivation. It combines intensive training of coordination and reaction in a playful way and adjusts to the player at his abilities. This makes it equally suitable for young and old and for training support in the area of rehabilitation up to competitive sports, but also for active leisure time activities in schools.

tWall promotions has made the product great for events because it is eye catching, appealing and a magnet for visitors. Try it at public events, trade expos, sports games, shopping centers, Family entertainment centers hotels, resorts, and more.

Twall Apps on iTunes and Google Play Store.
New "Event Mode": New function "Event mode" is great for events. Create a new event or challenge and assign any tWall games to it. Once you have started the event, only the assigned games will be displayed. The high scores are recorded for that event and can be exported with the share function.
The twall® can be expanded with various accessories, such as the optional 10" control panel or the MiLED scoreboard display . The tWall can be wall-mounted or used with a free-standing frame.
Axtion Technology has sold tWall products since 2004 at locations around the world. Axtion offers guides for Brain Fitness programs, rehab, sports training, and fun kids programs.
Learn more about the tWall Interactive Touch Wall.
Contact Us For More Information